Ha Long Bay (the bay where the dragon lands) is a small bay of the west coast Gulf of Tonkin of Vietnam Northeast Sea, including the sea islands of Ha long City, Cam Pha City and a part of the Van Don district island. Ha Long Bay includes 1,969 islands, of which have named 989 islands and unnamed 980 ones.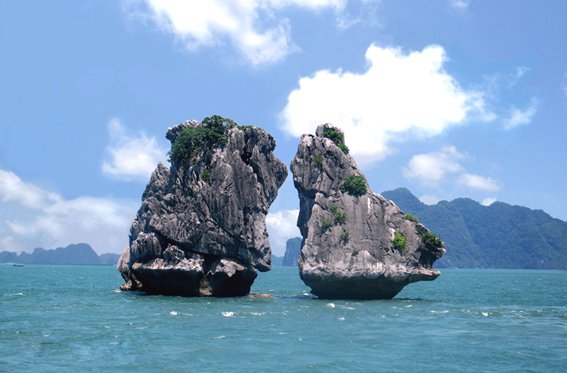 Trong Mai Islet- Ha Long Bay
The legend of Ha Long Bay
Ha Long Bay has been long formed due to tectonic movement. However, in the minds of the Vietnamese people from prehistoric age with the imagination and the idea of ​​folk roots as children of Fairy Dragon, some legends said that when the Vietnamese State established and fought against foreign invaders, the Jade Emperor sent Mother Dragon and her Child Dragons down to earth to help the Vietnamese fight the enemy. While invaders' boats were rushing to the sea-shore, the dragons landed down on earth. Dragons immediately ejected fire and engulfed invaders, and then beautiful landscapes appeared and turned into thousands of stone islands emerging in the sea like a solid wall blocking the enemy warships.
After the victory, seeing peaceful landscapes on the Earth, lush trees, hard-working people, Mother Dragon and Child Dragons did not return Heaven but stayed on earth, where the battle took place. The location Mother Dragon landed is Ha Long; where Child Dragons landed is Bai Tu Long and dragon's tails called Bach Long Vi (Tra Co Peninsula in the past, with 15-km long sandy beaches).
Landscape Values
Viewing from high, Ha Long Bay looks as a lively giant ink painting. That is beautiful and talented art works of the creator which turn thousands of natural quiet stone islands into flawless sculptures and paintings with different graceful shapes, just very familiar just as alien to humans. Thousands of islands are bobbing in the shimmering waves; they look energetic but also very soft, graceful, and lively. Boating in Ha Long with thousands of stone islands, we seem to be lost in a world of fairy stone here. There is an island like someone is heading to the mainland – Human's head islet; one is like a dragon hovering above the water – Dragon islet; one is like an old man sitting fishing – La Vong islet; etc.
Hidden in the hearts of such these stone islands are beautiful caves such as: Thien Cung cave, Dau Go cave, Sung Sot cave, Trinh Nu cave, Tam Cung cave, etc. Those are really castles of Creator on the Earth. In the past, Ha Long was named "Wonders on Earth among Heaven" by great writer Nguyen Trai.
Ha Long is a place of high biodiversity with typical eco-systems like mangrove ecosystems, coral reef ecosystems, tropical forest ecosystems, etc., with thousands abundant and diverse species of plants and animals together with particularly rare species found only in this place.
With such special values, Ha Long Bay has been recognized as Vietnam's national heritage in 1962 by the Ministry of Culture and Information, as a World Heritage site by UNESCO (in 1994 in terms of aesthetic value, in 2000 in terms of geological and landform value); and voted as one of the seven natural wonders by New7Wonders on November 11, 2011.
Vietnam warmly welcomes you to enjoy Vietnamese cuisine and to make your trip in smooth water, turn your plan into real by quick hands to obtain Vietnam visa at http://govietnamvisa.com and Vietnam online tickets at http://vietnamairlinesticket24h.com.
For your memorable travel, it is convenient to book tour at http://govietnamtour.net
For your great stay and nice relaxation after a long trip, it is nothing better than booking hotel at http://govietnamhotel.com