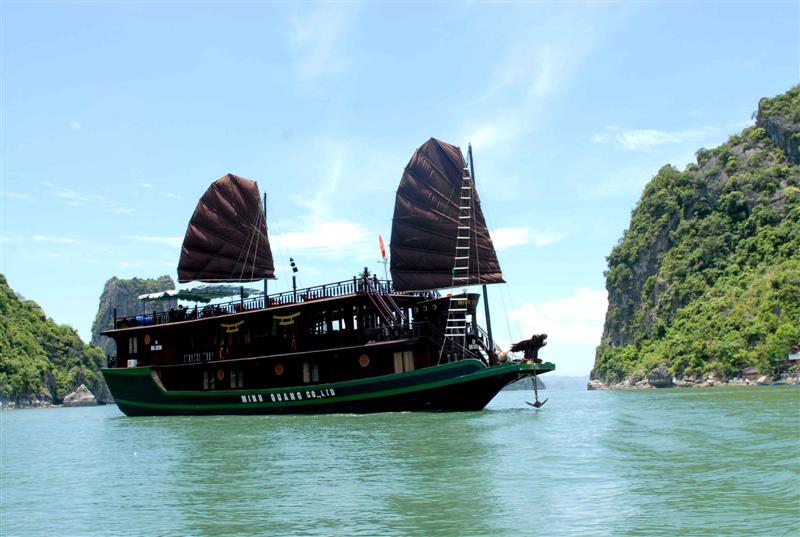 Summary:
Halong bay Tours package is exploring beauty journey of destination which is one of the heritages of the World by luxury cruise 3 stars standard. The tourist participate in Halong bay Tours package will be impressed by beautiful natural picture was created from thousands of limestone islands associated with the legend stories. Halong bay Tours brings the tourists not only are admired the beauty of the natural wonders of the world has been recognized by UNESCO but also are learned historical destinations in large wonderful caves in Halong bay such as : Wooden cave are keep wooden stakes lim General Tran Hung Dao Nguyen against invading Mongols, or the Heaven caves is look like the palce of God, Suprising cave,… Moreover, the tourists will be enjoyed the interesting experienced such as : swim and bath, sail the kayak when taking part in halong bay package Tours Our 32 meter Junk boasts 12 luxury cabins with private bath, air conditioning, linen sheets with all the amenities and services you would expect from a three-star hotel. On board is our full service restaurant for 30 guests, sun deck with comfortable lounge chairs and an attentive staff to satisfy all your needs.
Destination:
Halong Bay
Activities: Cruising, Kayaking, Sightseeing, Swimming
Click HERE for more details and book tour.