Sunny, unique and unspoiled, Ha Long Bay is a wonder of nature that needs little introduction! Pure paradise awaits you in the form of stunning beach front resort accommodation, a secluded island resort, fascinating local culture and beautiful marine life. Oh, and don't forget the action packed day full of water activities.
Why should you travel to Ha Long Bay independently?
Unsurprisingly, every travel agency in Hanoi sells tours and cruises to Ha Long Bay, which are likely to be overpriced. Budget cruises from Hanoi start from 30 USD for a day trip and mid-range cruises range from 110 USD to 130 USD. Many cruises would send you to Bai Tu Long Bay instead of Ha Long Bay.
Short cruises in Ha Long departing from Tuan Chau Marina can cost as low as 15 USD, included entrance fee to Ha Long Bay and Thien Cung Cave. While luxurious cruises can be a good treat for couples and families, traveling to Ha Long on your own is definitely more fun, relaxed and affordable.
Now, explore Ha Long Bay by your own way!
Pick your cruise or boat operator on Ha Long Bay
Everyday tours depart from Tuan Chau Marina bound to Ha Long Bay. Get here in the early morning to book a boat ride for your group, or join other groups if you wish to save expenses.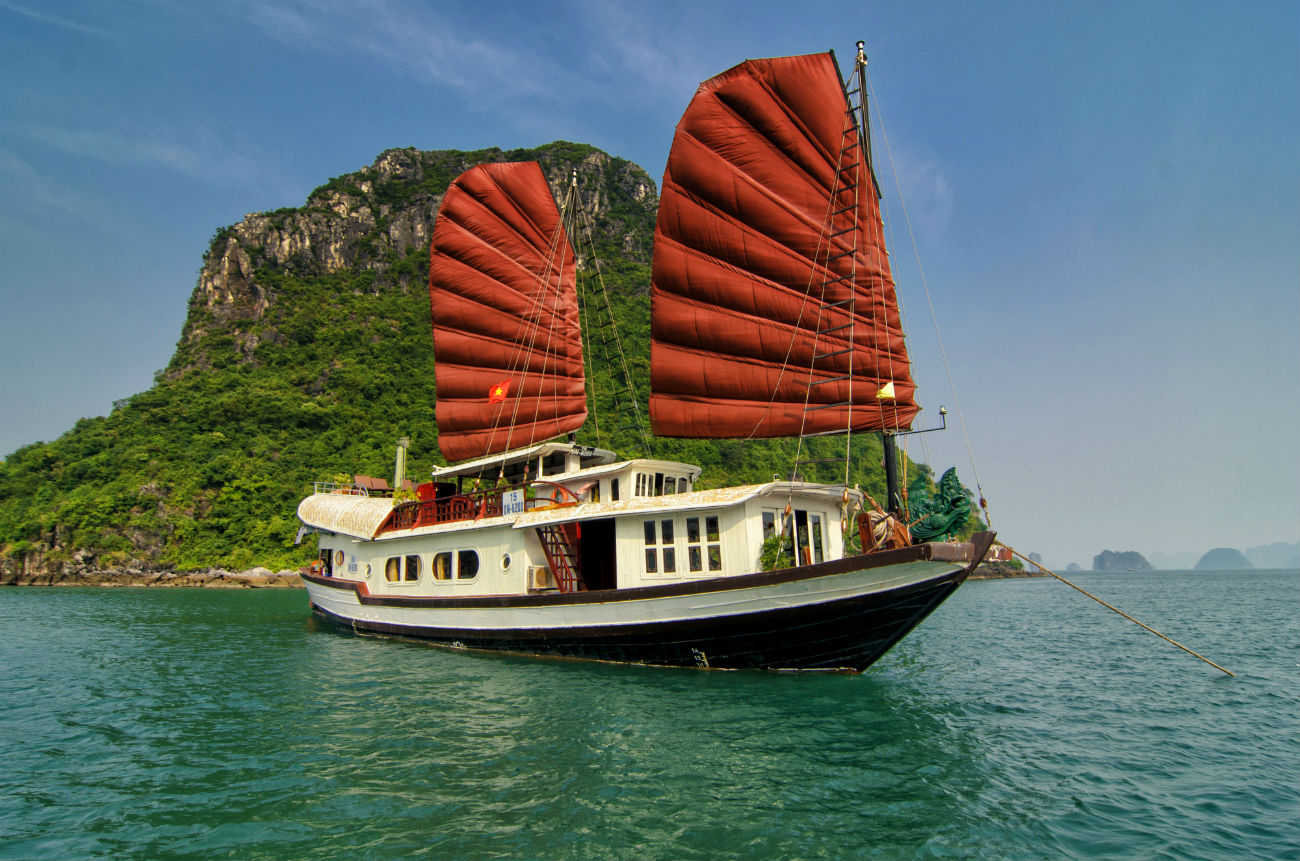 The two most common day-tour itineraries are:
– The short tour through Thien Cung Cave and Ha Long Bay for approximately 3 to 4 hours
– The long tour that takes you further into the bay through lots of caves and limestones, typically including kayaking and sunbathing on the beach, all within about 6 hours.
You can also book a day tour that departs from Bai Chay with Ha Long Party Cruise. The company organizes affordable and fun tours around Ha Long bay for young people, also possible to be arranged from Hanoi.
See the jaw-dropping beauty of Thien Cung Cave (Heavenly Palace Cave)
Thanks to the hands of the Creator, Thien Cung Cave is one of Halong attractions having the impressive natural beauty. Along with Sung Sot Cave, Thien Cung Cave is one of the largest and most beautiful caves in Halong Bay.
Thien Cung Cave (Heaven Cave) is located in the north of Dau Go Cave. The interior of this 10,000 square meter cave is filled with complex structures of stalactites and stalagmites – all formed naturally and accentuated thanks to a vibrant system of lightning and sound. Because stalactites inside had the shapes of dragon, phoenix, and Four Pillars which made those people think about an imperial palace. The cave was named as Thien Cung Cave (Heaven Cave). Indeed, visiting Thien Cung Cave, tourists may have the feeling of entering into a heavenly palace with the magic and magnificent system of stalactites.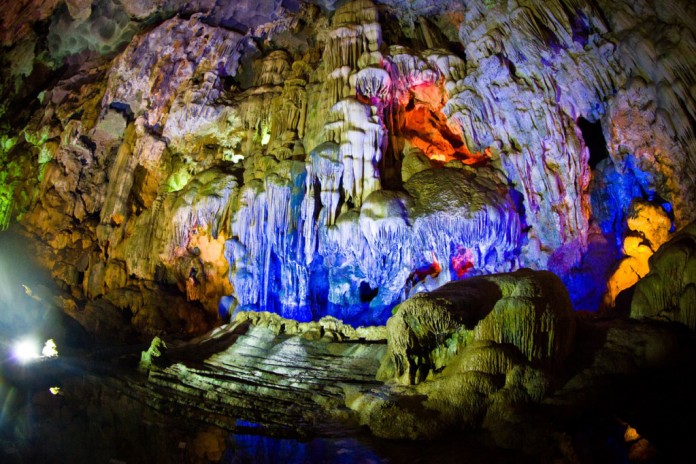 Thien Cung cave is recently discovered, one of the most beautiful grottoes in Halong Bay. Photo: Internet
Adore the diverse natural beauty of Ha Long's limestone islands
Navigating around Ha Long Bay through a diverse range of islets is the most soul-stirring experience that you would find nowhere else. Enjoy the jaunt passing through the Stone Dog islet, Man Dad islet, Incense Burner islet, Fighting Cock islet, Horse islet, etc. to fill you with imagination and creativity.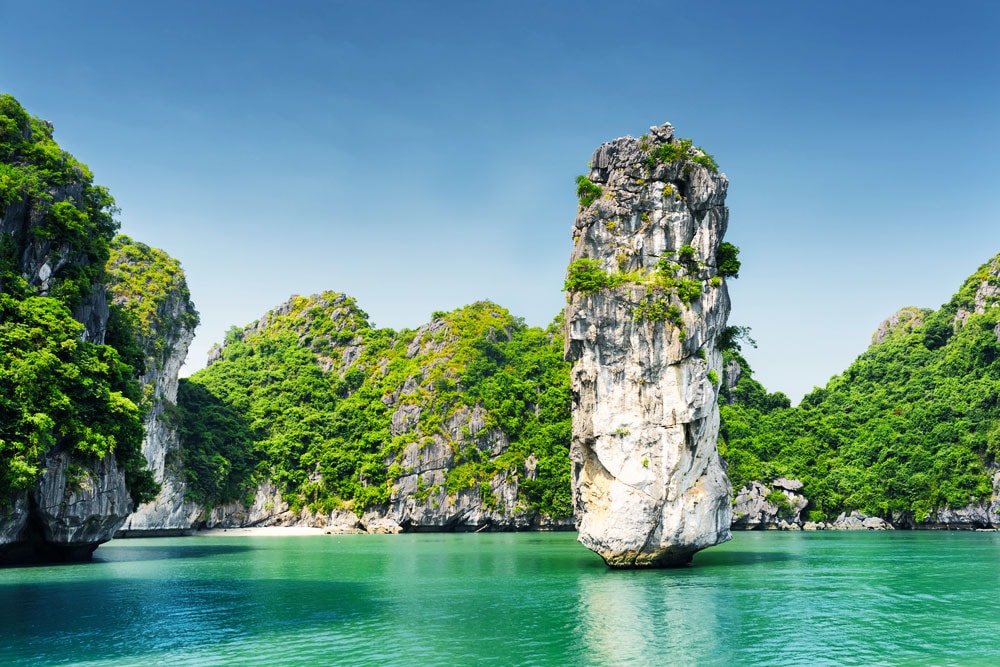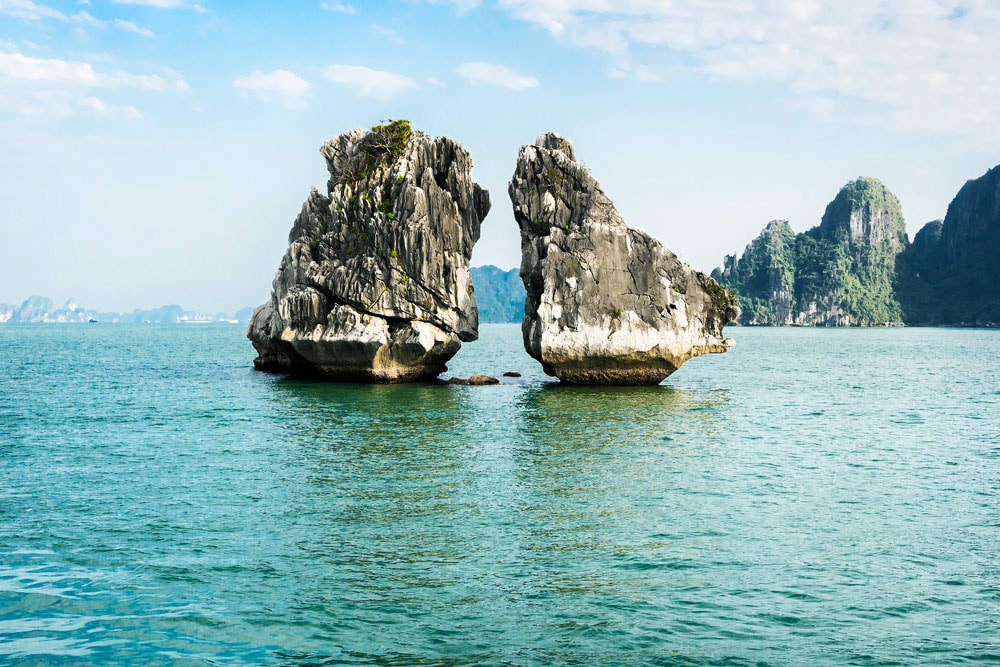 More than 2,000 limestone islands have made the unique beauty to help Ha Long Bay become one of Asia's most beautiful beaches. Photo: Internet
Kayak on the bay to explore further by yourself
The most rewarding sport activity you must try in Ha Long Bay is kayaking. Discover hidden corners here and there around Ha Long Bay or Bai Tu Long Bay by yourself is a fun challenge.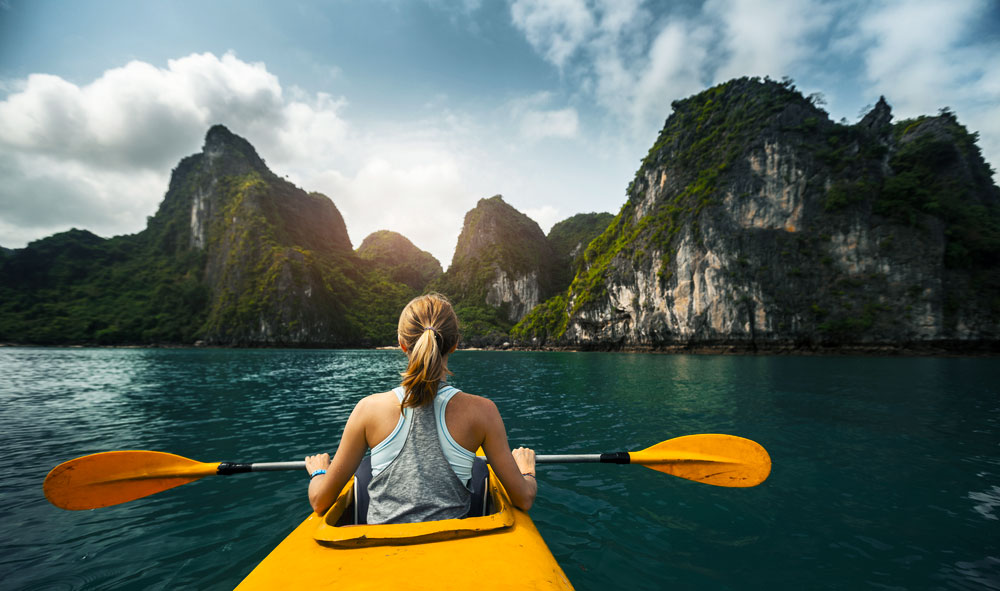 Swim or Sunbath in Ti Top Beach 
Most of the long-hour or overnight tours in Ha Long include sunbathing and swimming in Ti Top Beach. This is the time to chill after a long day of exploring the bay. For short cruises, the boat normally takes you back to Tuan Chau by the same route.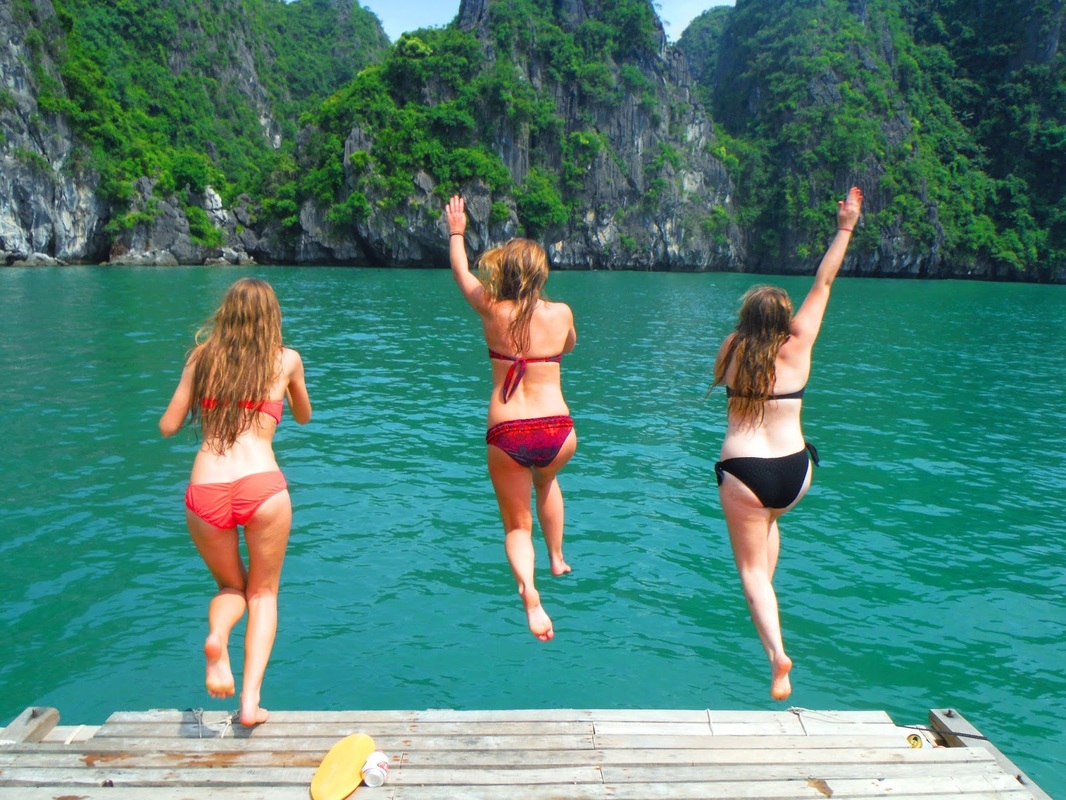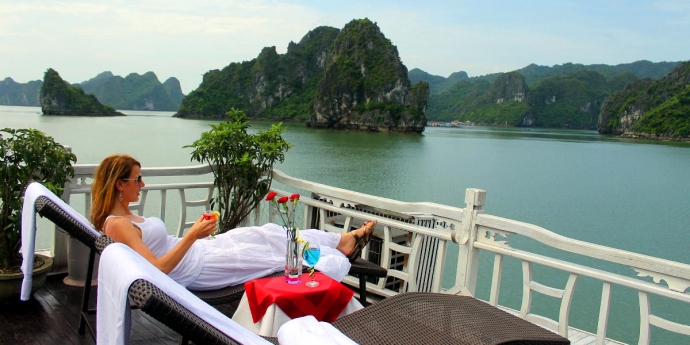 Enjoy impressive sunset in Ha Long Bay and cruise back to the port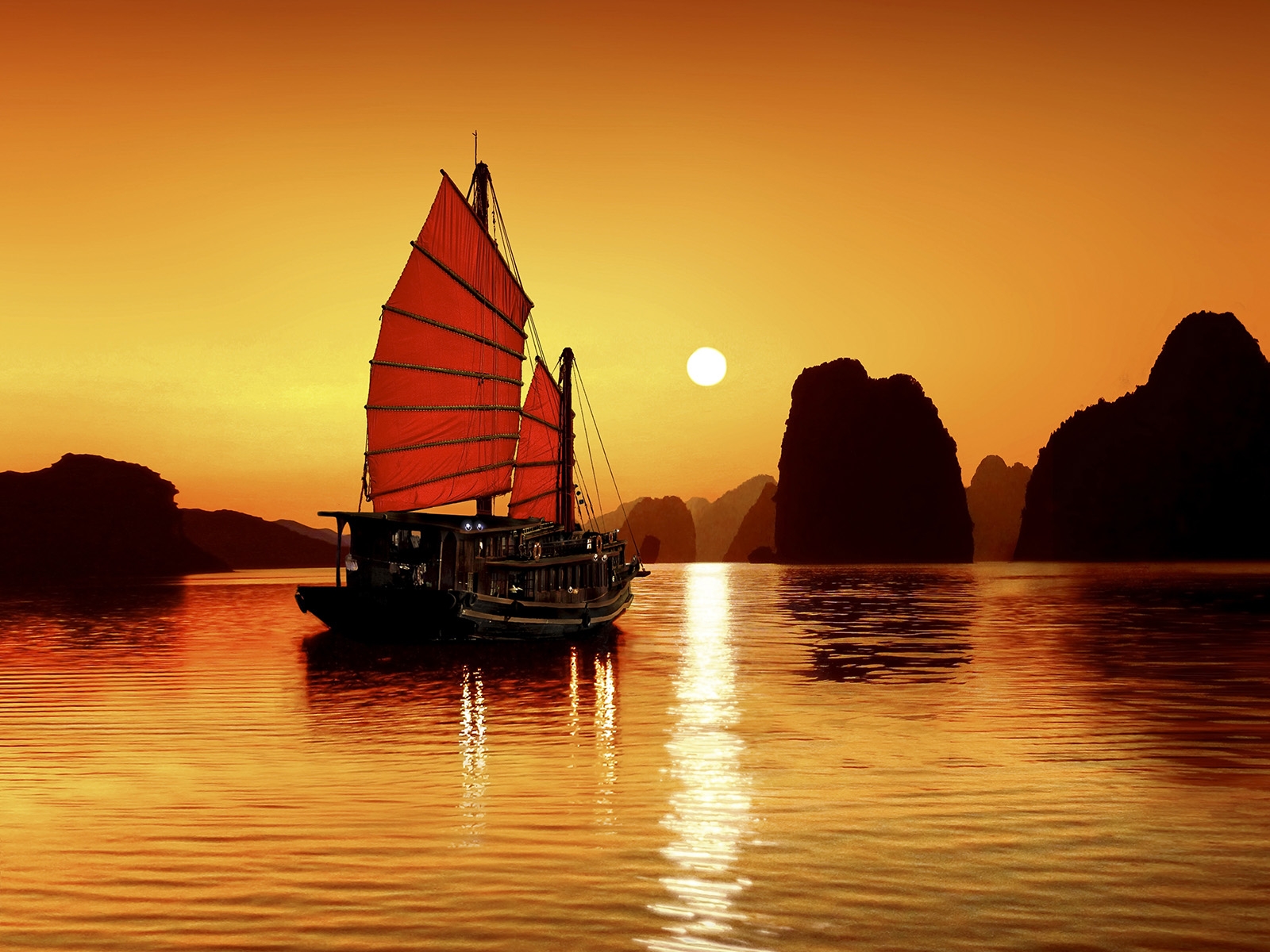 The sunset on Ha Long Bay is extremely breathtaking. Photo: Internet
It's time to say goodbye to paradise!
To help you have a great trip, the following are some helpful tips for your independent trip:
Arriving visa
Applying for a Visa on arrival will save you time and in most case money. In fact, obtaining a visa on arrival is increasingly the most popular way to travel to Vietnam. 
Currency
The currency used commonly in the Ha Long Bay is Vietnam dong (VND); however US dollars are also accepted everywhere. We highly encourage you to take and spend USD as it's quite difficult to convert Vietnam dong back to your home currency on your return.
Bring Your Camera
Scenic Halong Bay is a photographer's paradise. It has arguably the most stunning natural scenery in all of Vietnam, and is ideal for capturing magnificent photos at all times of the day. For dramatic photos, head out on the bay at sunrise or sunset to capture the reflection of the coloured sky on the water.
Learn Basic Vietnamese Phrases
You can have a more authentic experience in Halong Bay by learning a few basic Vietnamese phrases. Your local vendors and hotel owners near Halong Bay will speak English, but it can be a good idea to memorize handy phrases in Vietnamese. Locals will appreciate that you took the time and effort to appreciate their culture, and you will likely receive kinder treatment. You may even make a new friend.
Vietnam warmly welcomes you to enjoy Vietnamese cuisine and to make your trip in smooth water, turn your plan into real by quick hands to obtain Vietnam visa at http://govietnamvisa.com and for Vietnam eTicket at http://vietnamairlines247.com.
For your memorable travel, it is convenient to book tour at http://govietnamtour.net