Situated 2 kilometres from Halong Bay Centre, Tuan Chau is on top of tourist attractions with a wide range of hotels, resorts, restaurants, and entertainment venues, visitors can enjoy holidays, from luxury overnight cruising to casual day trips to other areas of Halong Bay. The white, sandy beach stretches for more than 6 kilometres, and is fringed with 200 hectares of green pine forest. With total dock length of 7 kilometers, this port is a safe and modern marina, with capacity to harbour more than 1,000 ships at a time.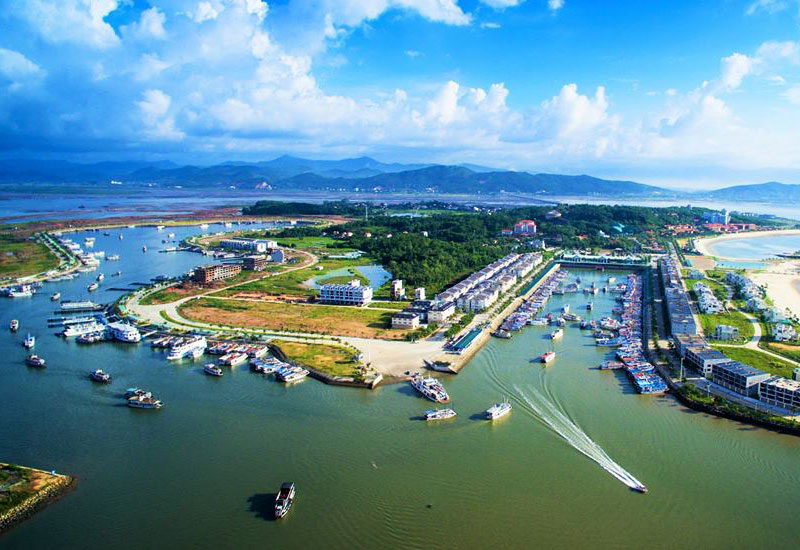 Far away Bai Chay about 4 kilometersTourist Wharf to the southwest, Tuan Chau Island is a soil-schist island on Halong Bay that is connected to the mainland by a 2-kilometer road built in 1998.
The name "Tuan Chau" comes from two words: "linh tuan" (patrolman) and 'tri chau' (district) because in the feudal period, Tuan Chau Island was a guard station in the national defense system.
Tuan Chau Island has the original size of 2.5 square kilometers and it now covers an area of 4 square kilometers. On the island, the weather is cool all around the year. It's featured with 2-square kilometer green pine forest, white sand beach stretching 6 kilometers. These all features make Tuan Chau Island an ideal place for visiting and relaxing on Halong Bay
Tuan Chau attracts many tourist around the world not only it's aesthetic value but Tuan the historical value with many archaeological relics. Archaeologists found many stone tools and pottery which are the evidences of Halong Culture dating around 3.000 – 2.000 BC.
Tuan Chau Island is being planned to be an international resort island and event-holding center. Coming to the island, the visitors is stay hotel and resort area of 5-star standard (200 rooms); taking part in a water recreation park with activities such as motor racing, canoeing, parachuting, water skiing, etc.
Don't hesitate to pack your luggage, come and discover the amazing land. For more information please visit our family website:
For Vietnam online visa Govietnamvisa.com
For Vietnam local tours: Govietnamtourist.com
For exploring more parts of Vietnam:
http://www.vietnam-online.org/