For over 2000 years of Buddhism in Vietnam, the famous name of Yen Tu mountain has been associated with the name and career of Buddhism King Tran Nhan Tong who founded the Truc Lam Zen sect bearing the typical Buddhist culture of the Vietnamese people.
With the unique landscape, architecture, culture and history, Yen Tu Relic and Landscape Complex has been recognized as a special national relic and World Heritage Site.
History of Yen Tu Sanctuary
History says that King Tran Nhan Tong (1258 – 1308) who led the country to victory over the powerful Mongolian army of the Yuan Monarchy in two wars in 1285 and 1287 left his royal palace to go to Yen Tu Mountain to lead an ascetic religious life on a day in late 1299. This was an unprecedented event in the history of Buddhism in Vietnam. He founded the Truc Lam Zen sect and took the name Truc Lam Dai Dau Da. Later, people reverently called him "Buddhist King Tran Nhan Tong".
Every year, from the 10th of January according to the lunar calendar and through three spring months, thousands of visitors from everywhere flock to Yen Tu Mountain to attend the Yen Tu Festival to commemorate Buddhist King Tran Nhan Tong, worship Buddha and contemplate the scenery in spring.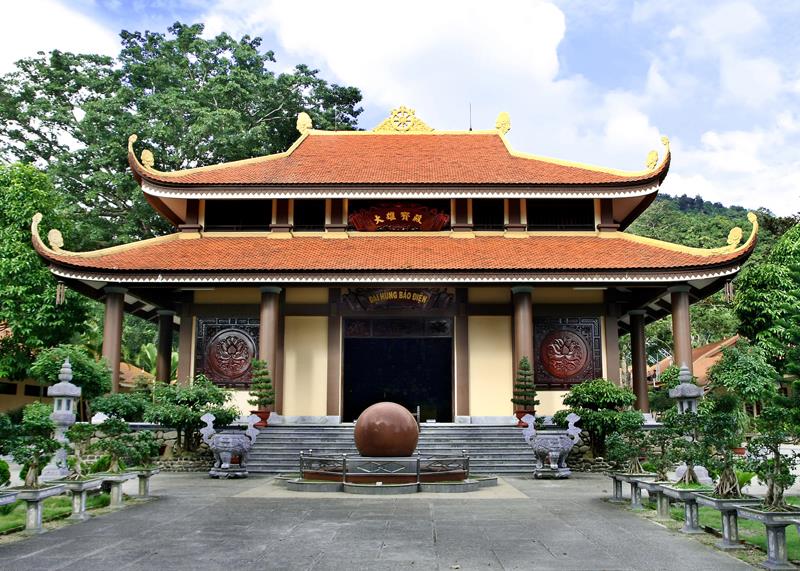 According to Venerable Thich Thanh Quyet, who is Head of the Management Board of the Buddhist Shangha in Quang Ninh Province and verger of Dong (Bronze) Pagoda on Yen Tu Mountain, in the initial days of leading a religious life, apart from practicing and studying the Buddhist tenets to disseminate Buddhist dharma, Buddhist King Tran Nhan Tong also ordered the construction of a system of religious architectural works comprising pagodas, temples and towers of special architectural and artistic value, such as Dong, Bi Thuong, Suoi Tam, Cam Thuc, Lan, Giai Oan, Hoa Yen, Mot Mai, Bao Sai, and Van Tieu Pagodas, and Hue Quang and Hon Ngoc Tower Gardens.
The best time to visit Yen Tu
The best time to get to Yen Tu is in Spring, the weather is ideal for climbing up the mountains and the festival will be operated during this period. This festival starts from the 10th day of January ( lunar calendar) and lasts for three months. Visitors get to Yen Tu and start their journey, take this chance to show their belief and forget the sorrows and unhappiness while foreign visitors soak un the atmosphere of the festival.
If you want to have more space for yourself or avoid the crowds, you can visit Yen Tu mountain from September to November since the weather is not hot and cold during this time.
Discover Yen Tu mountain
The first attraction you may encounter Bathing Brook where King Tran Nhan Tong washed off earthy life symbolically before becoming a monk. Nearby is Cam Thuc ( Cầm Thực) Pagoda where the King had his first vegetarian meal.
Next, you can see a green stone 10m – long – bridge connecting two sides. This bridge was built in an antique architecture. It is said that when King Tran Nhan Tong decided to become a monk, many people tried to persuade him to change his decision by suiciding into this spring. Then, the monk king built a temple and the spring is called "Giai Oan".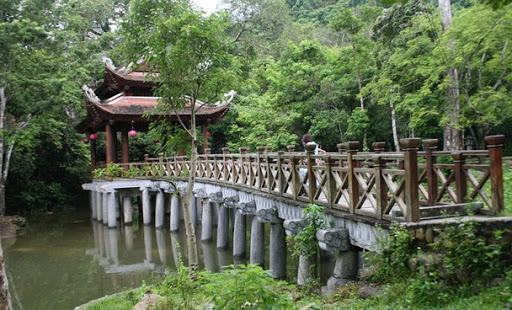 Climbing for 30 – 45 mins, you will see a green courtyard called Hue Quang Tower Garden with vivid colors from different flower species.
Hoa Yen Pagoda is one of the biggest pagodas of Yen Tu mountain that is located on the hight of about 543m. Here, there is a long row of Glyptostrobus trees that were planted when King Tran Nhan Tong was at Yen Tu.
The path continues past Ngoa Van (Ngọa Vân) temple, the Mot Mai pagoda. Walking on, you will be able to come to Heaven's Gate. Climbing to the height of about 700m is Van Tieu (Vân Tiêu) Pagoda that lies inside layers of white clouds. When reaching a height of 1,068m, you can see Dong (Đồng) Pagoda, which is made from copper. Dong Pagoda was in the 15th century. It is 12m2 wide, 3m high and weighs about 60 tones. It takes about 5-6 hours to get to Dong Pagoda by the rugged trail. Both of these pagodas were built a thousand years ago, and are great destinations to visit.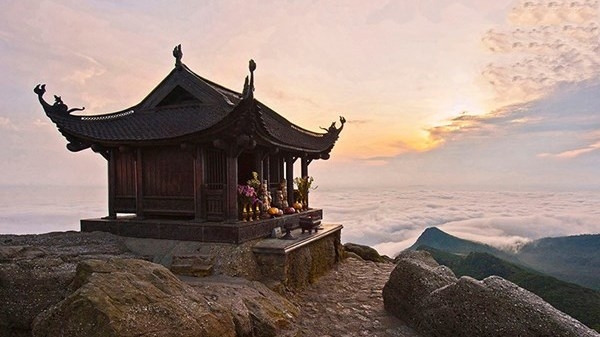 In the highest of Yen Tu mountain, you will be able to watch a panorama of Bach Dang River and Ha Long Bay.
Generally, the scene with the sound of the bell, the breeze blowing through the forests, and the smell of incense may make the visitors forget sorrow, selfishness, and worry. It is a common feeling for people who get to Yen Tu Mountain in Vietnam.
Don't hesitate to pack your luggage, come and discover the amazing land. For more information please visit our family website:
For Vietnam online visa Govietnamvisa.com
For Vietnam local tours: Govietnamtourist.com
For exploring more parts of Vietnam:
http://www.vietnam-online.org/