Enjoying the local foods in Quang Ninh is also a special part of your travel besides witnessing the magnificence or exploring some interesting facts of the UNESCO World Heritage Site.
Squid sausage ( Chả mực)
The name is self – explanatory. It is a simple dish made of squid and flour. However, it is always on top of the list of food in Quang Ninh because the squids used are caught within the Halong Bay.
It is not only on the top of the list of must try food in Halong Bay, but also among the 50 special dishes that you have to taste when traveling to Vietnam. The crunchy texture made of fried flour comes perfectly with the sticky rice (xôi) or a thin layer of steamed rice cake (bánh cuốn). It is a very simple food so you can find it at any restaurant around Halong city.
Pure Squid in Ha Long
Pure squid is a culinary brand of Quang Ninh province. Squid are big, fresh cuttlefish that are caught in Ha Long water. Cuttlefish dishes here ensure pure, so always fragrant and characteristic. Squid after preliminary processing is put into a finely crushed mortar, seasoned with pepper, broken, then squeezed into small pieces to eat, drop into a pan of boiling oil for nine sides of yellow.
Freshly fried patty from the very first time into the frying pan have a charming fragrance. The crispy, sweet squid pieces are served with a rich piece of meat rolls and the sweet sweetness of spicy dipping sauce will leave an unforgettable impression on the guests.
Ngan ( Ngán)
Ngan likes a clam, it literally means "the feeling when you are full and not feeling like eating anymore". Ngan  can be cooked in many ways such as grill, boil. steam or fry with noodles. Furthermore, It goes perfectly with wine that's why a lot of men love this food. It has a unique scent of the sea,  it is not difficult to find it anywhere around Halong.
Sipunculus nudus ( Sá sùng)
It looks like a worm and a little bit weird but it tastes delicious and becomes one of the special and expensive dishes in Quang Ninh. The taste, indeed, is much more delicious than it's appearance.
The common dish is fresh sipunculus nudus fried with garlic. Garlic is just the right spice that stimulates the sweetness of the meat. In addition, they also dried the sipunculus and roast it until the dish has just the yellow brown color. Roasted sipunculus eaten with chili and lettuce is just the right dish that you should try once in your life despite the price can be a little bit high compared to your planning budget.
Nodding Cake ( Bánh gật gù)
"Gat Gu" cake is made from rice flour which has the same appearance as rolls and noodle cakes. The process of creating a batch of cakes is quite picky: Rice is soaked from the previous night, until the next morning, it is crushed into water powder. It is quite strange that in the time of grinding, people often give cold rice to the cake when it is coated, smooth, but the same kind of cakes cannot compare.
Stomatopoda Noodle ( Bún Bề Bề)
Directly caught from the sea, the main ingredient, Stomatopoda will surely give you a positive impression as one of the best foods that ever exist on Earth. Sweet cabbage, shrimp, Catawissa, fried onion, tomato, and chili are also added as sub-ingredients.
The dish offers a wonderful taste of Stomatopoda boiled with the irresistible taste of chili. But of course, what makes the dish different is still the fantastic Stomatopoda meat with the most wonderful bouillon of all tastes from sweet, spicy to sour.
Tien Yen Hill chicken ( Gà đồi Tiên Yên)
Tien yen is 70km away from Halong and belongs to Quang Ninh province. It is special because the chickens are raised in the hill of Tien Yen.
The chicken is let free to walk or run around to find food that' why the of them are uniquely tasty, firm and sweet, not fatty like factory chicken will definitely not fail you.
Sour Meat of Quang Yen town ( Nem chua Quảng Yên)
The materials are simple and affordable: sliced boiled pig's skin, thính (grinned roasted rice). Then, they are all mixed up with some special sauce that turns all the very simple materials into a delicious sour, sweet and a little spicy dish.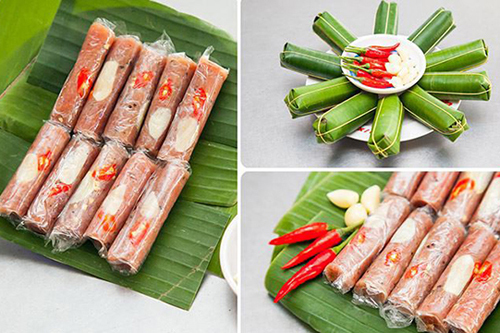 Here are some restaurants in Quang Ninh to try the delicious dishes:
- Cua Vàng Restaurant: Address: 32 Phan Chu Trinh Street, Bãi Cháy Ward, Hạ Long City, Quảng Ninh Province
- Hạ Long 1: Address: Hạ Long Street, Bãi Cháy Ward, Hạ Long City, Quảng Ninh Province
- Hồng Hạnh Restaurant: Address: 442 Nguyễn Văn Cừ Street, Hạ Long City, Quảng Ninh Province
- Linh Dan Halong: Address: 104 Bãi Cháy Street, Bãi Cháy Ward, Hạ Long City, Quảng Ninh Province
- Cổ Ngư Restaurant: Address: Bãi Cháy, Hạ Long City, Quảng Ninh Province
- Phú Lâm Restaurant: Address: 935 Bãi Cháy Street, Hạ Long City, Quảng Ninh Province