Everyone comes to Ha Long Bay is not only because it's spectacular landscape but also for exploring and enjoying local cuisines here. Halong Bay tourists are probably no exception, and they would definitely be surprised by the exceptional gastronomy of this charming bay. Specially, below are 5 tasty dishes that you should not miss chance to enjoy in Halong Bay.
Halong Bay Squid Sausage
There is a saying that no kind of squid can make the squid sausage as wonderful as Halong Bay's squid. The main ingredient is squid. It must be fresh squid that is newly caught. The dish, hence, will get the sharp and appealing tang.
Halong Bay Lobsters
Lobsters can be made to many dishes such as: fried lobster with salt, rice gruel with lobster, lobster salad or steamed lobster. Lobsters have long been titled as King of highly nutritious seafood. Lobsters' meat is extremely firm and sweet. Once you have tried it, you will never forget its taste.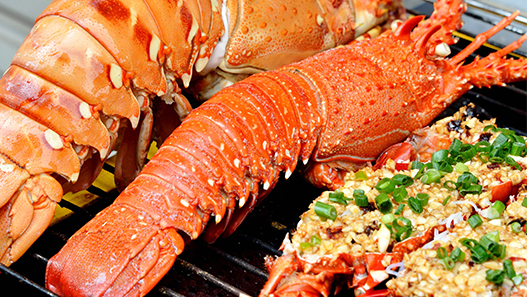 Halong Bay Oysters
Another well-known seafood in Halong is oyster. Oyster is a nutrition-rich food and provides a plethora of energy for your body. Inside its hard-shell is blood-like red bowel, which carry the most delicious and nutritious part of an oyster. Similar to lobster, the best way to enjoy oyster is to boil it, which could maintain its taste. Putting some blades of lemongrass into pot, the water must be brought to a rolling boil. Oyster, then, is soaked into pot and taken out right after air bubbles rise.
Halong Fried Sea Snails with Chili Sauce
Halong has many kinds of sea snails; each kind has its own processing and its own taste. But fried sea snail with chili sauce is the most attractive dish.
To cook this dish, people wash snails, then put them in pot, add chili sauce and cook without adding water. Without adding cooking oil, they just sprinkle more shredded lime leaves on this dish. When completed, snails fried has passionate fragrant and fuming. Snails turn pink with red dots, yellow dots and look nice. This dish tastes greasy, spicy hot, usually added with herbs. When drinking beer, it would be great if snails are served with.
Ngan (Austriella Corrugata)
Last but not least, there is a seafood names "Ngan". Not everyone might knows this food but  these hard shell clams are very delicious. If you travel to Halong Bay and like seafood you simply must try Ngan. It's a versatile dish that can be steamed , added to a stir-fr or grilled.
If seafood is your favourite food, don't hesitate to book tour to Ha Long here . To make your trip easier, we provide Vietnam visa at http://govietnamvisa.com . Enjoying these foods will surely make your Halong Bay trip more wonderful and memorable.