Ha Long Bay is sprinkled with stunning outcrops and islands of limestone, topped by lush rainforests. This 75-mile-long (120-kilometer) coastline, literally translated as the "Bay of Descending Dragons", features thousands of limestone monoliths rising from the water, natural stalactite caves, picturesque islands and unique fishing villages to explore. As a UNESCO world heritage site, Halong Bay has no shortage of amazing natural wonders.
To explore Ha Long Bay you should find a tour with an itinerary that includes everything that strikes your fancy.
1.    Visit the Ha Long Bay Islands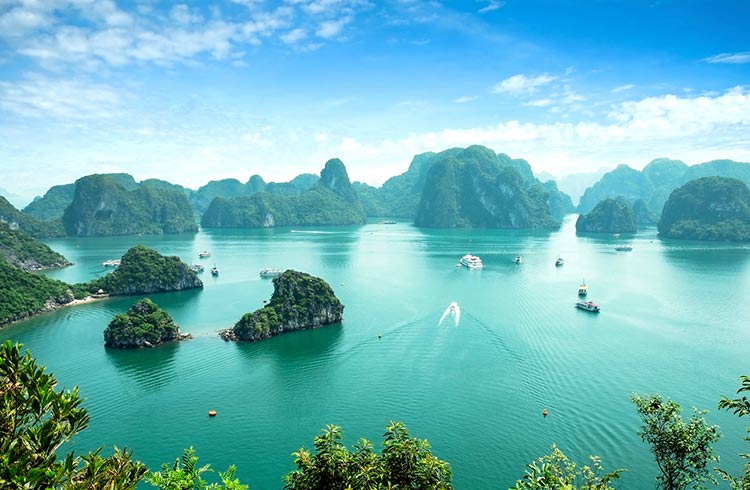 There are literally thousands of islands in Halong Bay, each with a unique atmosphere and stunning beaches.
-        Tuan Chau Island has 6 kms of pristine, white beaches, which are fringed by a gorgeous pine forest.
The island is perfect for some super water activities, including:
Kayaking

Canoe parachuting

Fishing

Jet skiing
- Ti Top Island is a little piece of history as it is named after the Russian cosmonaut, Gherman Titov, who visited the island in 1962. The island also offers some of nature's finest with an unbelievable panoramic view of Halong Bay, and its idyllic coast is ideal for swimming and kayaking.
- Soi Sim Island puts on the ultimate display of flora and fauna. Its stunning forest is filled with ancient plants, and the island is surrounded by mountains with a spectacular view of Halong Bay. Soi Sim is famous for its emerald waters, which are painted green by the surrounding foliage.
2.    Discover grottoes.
Halong Bay is known for its amazing caves and stunning scenery.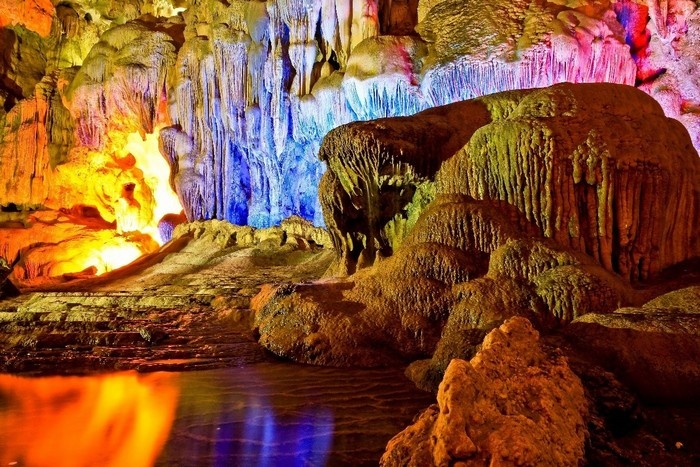 -        Sung Sot Cave – Surprising Cave has earned its spot as one of the best Ha Long caves to visit. The largest of which is a giant limestone bubble, filled with stalagmites and stalactites. Famous Sung Sot contributions to Halong's cave legends include a horse and sword, which were placed there to protect Halong. Take a look around and see if you can spot other notable formations, including, mammoths, seals, elephants, flowers, ageneral directing his troops
-        Thien Cung Cave – Heavenly Palace and experience the legend of the Dragon King. experience the legend of the Dragon King. With its four monumental pillars, bubbling stream, and the sound of the king's drums (created by wind blowing through the cavern), the Dragon King's story comes to life.
-        Dau Go Cave is an impressive menagerie, filled with a diverse collection of animals and plant life.
-        Dark and Bright Cave makes a stunning sight. It is only accessible via rowboat or kayak, adding a splash of adventure to your Halong trip.
-        Tam Cung Cave, in the limestone cliffs of May Den Island, lies the Three Palace Cave. Enter this unreal natural museum with stunning artworks, carved and chiselled by nature.
3.     Sail to the Floating Village
The amazing water-based collection of houses is surrounded by stunning natural landmarks and plays a major role in their protection.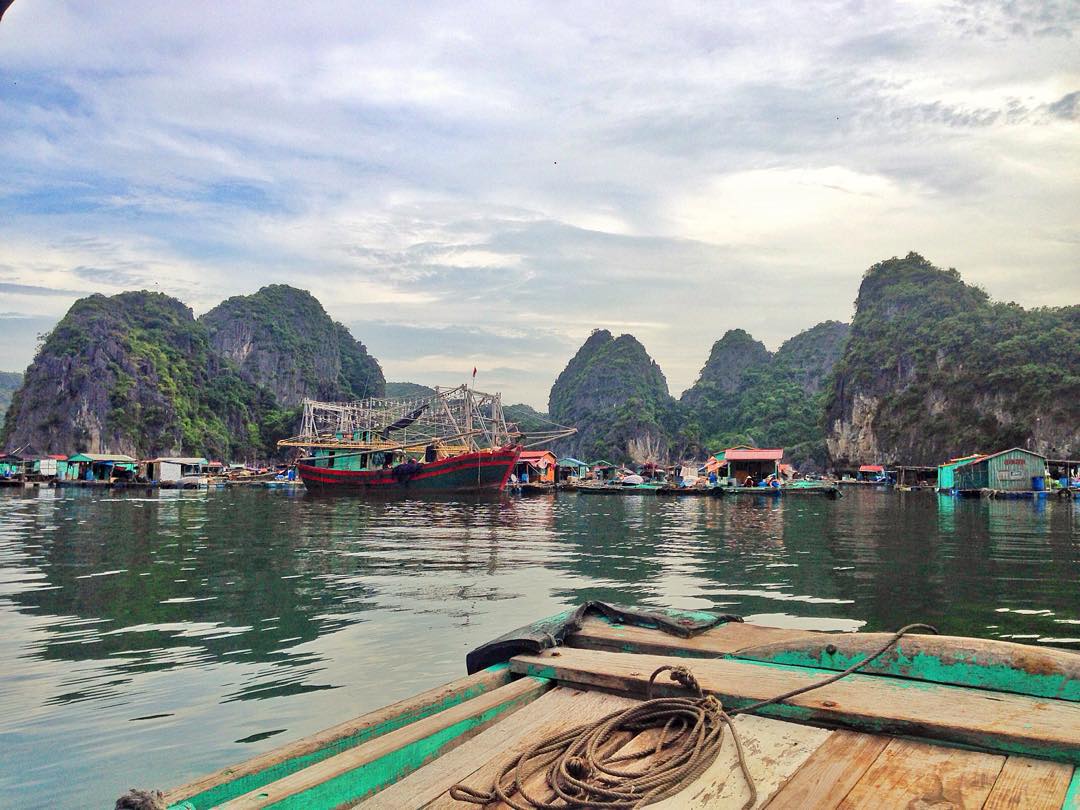 The ancient fishing village makes for an unbelievable sight amongst the chalky islets and is a 'must-see' on your Halong adventure. Take your time visiting one or more of the four main floating villages in Ha Long Bay: Cua Van, Vung Vieng, Cong Dam and Ba Hang.
4. Kayak and Scuba dive.
With clean blue water and calm tides, Ha Long Bay is ideal for paddling around from one limestone outcrop to the other, and sometimes even through caves.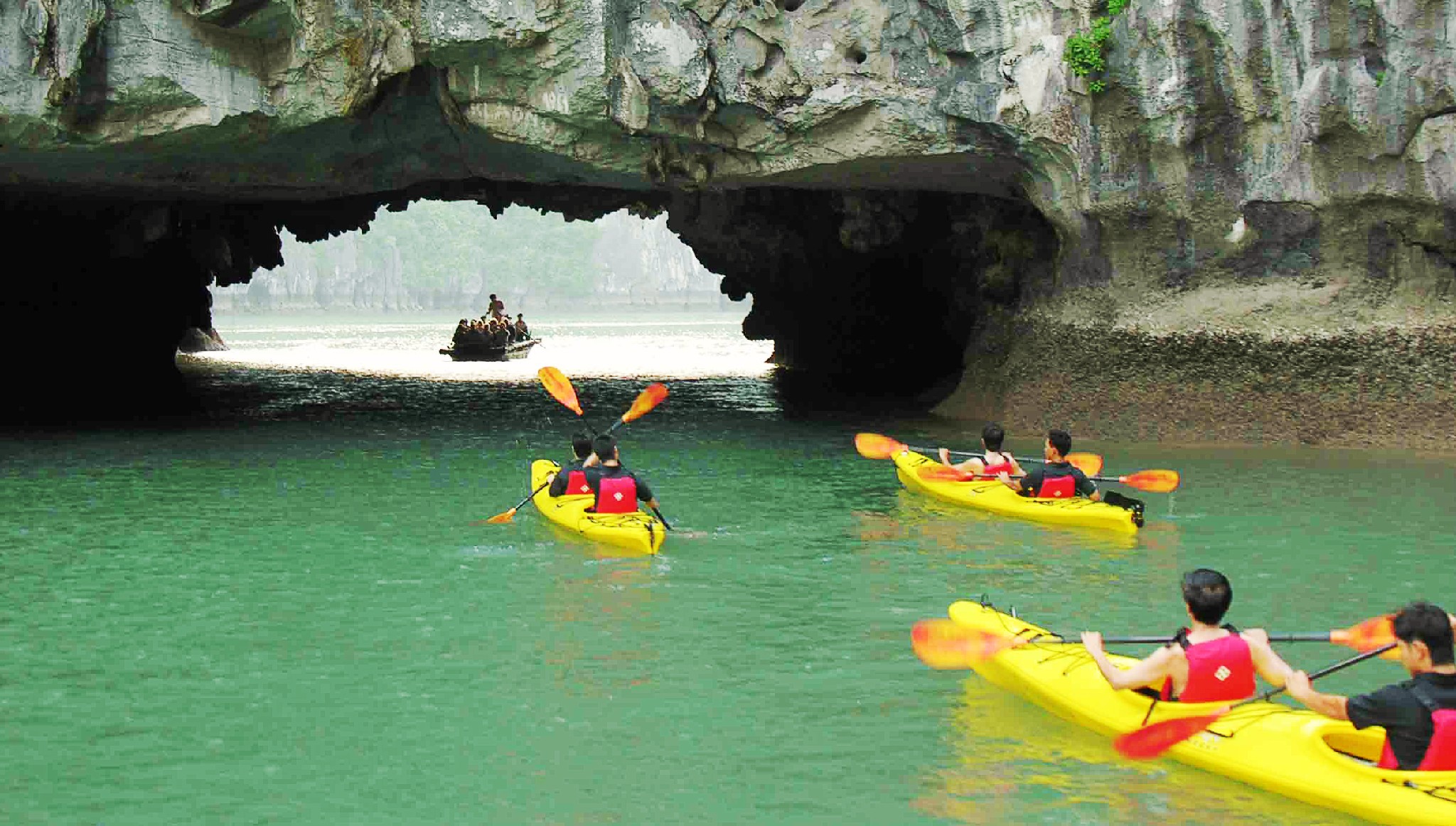 The most common areas for kayaking are part of 3 Peaches islets, Dark and Light Cave. Scuba diving and snorkeling are recent additions to the activities you can do in Ha Long Bay.
5. Visit Quang Ninh Museum
The museum is a great way to experience centuries of Vietnamese history and the development of their cultural identity.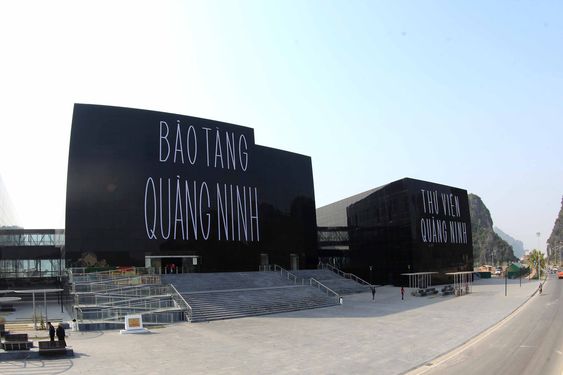 The architecture of the building is also amazing to see because it is designed to function like a massive mirror reflecting gorgeous views of the Halong Bay coastline.